4.5 OUT OF 5 STARS (Want to know what exactly our star ratings mean? Check out our explanations here)
MARINA, otherwise known as Marina Diamandis and by her former stage name Marina and The Diamonds, has been charming fans with her bubblegum pop beats and dark lyrics since her first LP, 2010s The Family Jewels. Love And Fear, two EPs combined into a full album, marks Marina's most ambitious, and mature, work to date. Love was released on April 2nd with Fear dropping April 26th. The weeks between the EP and the LP allowed for reflection, both about where Marina is taking herself musically and for fans to fully process the richness of the layered synth of this new effort.
Marina has said in interviews that this two part album was addressing her personal fears about love. Anyone who has listened to Electra Heart should not be surprised to learn Marina has some commitment issues. I've been a Marina fan since her pre-Family Jewels demo tapes. Marina has long been one of my absolute favorite pop guilty pleasures, and I tend to forget that her lyrical depth means I don't actually need to feel guilty. I can understand how she has become a gay icon; her campy nature and danceable music can be infectious. Much like my desire to listen to Love and Fear as distinct works, it's hard for me to listen to Love/Fear without considering her early work. I have often described her to potential fans as "lyrics like Lana Del Rey without minor keys and with poppy beats."
To Be Human, one of my favorite tracks off Love, deserves to be listened to next to Savages off Froot. True from Love syncs with Lies from Electra Heart in an uncanny way. Orange Trees, clearly intended as the primary single for Love/Fear, can be contrasted with Froot, the previous single from the album of the same name. From Fear, Emotional Machine feels like a more mature address of I Am Not A Robot from Family Jewels. Soft to be Strong feels like Love/Fear responding to Happy, the opening track from Froot.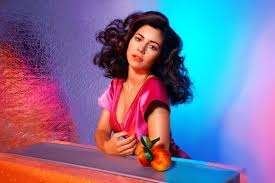 The Love/Fear album is worth a listen, even if you never listen to Marina's older work. Recently seeing MARINA on the Tonight Show performing Orange Trees highlighted the weirdness that is watching an artist rise from darling to national sensation. Part of what I loved about the campiness of Family Jewels and Electra Heart was the pop simplicity; Love and Fear loses none of that while creating an accessible tone. As fans, we get protective of our indie love; Marina losing the Diamonds is a reminder that we can't own art.
A drawback of Love/Fear is the length. As two EPs I really enjoyed it, but as a single LP it was long. I think the synth pop background works for 8 songs over two listens, but sitting down to 16 songs of pop pulp and nihilism is exhausting. Of course, the great joy of internet listening is the ability to pick back up any time. I seriously suggest Orange Trees might be your summer soundtrack, and Karma inspires me to throw fancy cocktail parties. The Diamonds of Marina and the Diamonds referred to her fans; dropping us from the name did not change the quality, or devotion, to the artist. MARINA will be performing in Seattle Tuesday Oct. 8th at The Paramount.